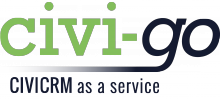 Civi-Go is a CiviCRM service in the modality of SaaS (software as a service). This service allows us to house in our servers preconfigured instances of CiviCRM and offer Civi-Go clients the possibility of starting to use the tool without having to make installations, configurations nor technical  chores that many times require an experienced IT guy.
All Civi-Go instances are hosted in a high performance and secured environments. All servers use SSD disks for database access.
Civi-Go is a servide provided by iXiam.
iXiam is a global software development and technology company providing solutions to our customers worldwide. Headquartered in Barcelona, Spain with succesfull projects delivered around the globe, we provide to our global customers first class services and solutions: CiviCRM Projects, Webcasting Solutions,Software Development and Professional Services.Focused on the Spanish-spoken community, our interest is to help organizations of all sizes to know, understand and implement CiviCRM.We offer CiviCRM professional services like: 
Process Consulting
Configuration and implementation 
Customization
Custom module development 
Drupal based CiviCRM hosting 
Development of applications integrated with CiviCRM through API
We also launched this year ouw CiviCRM as a Service platform: Civi-Go